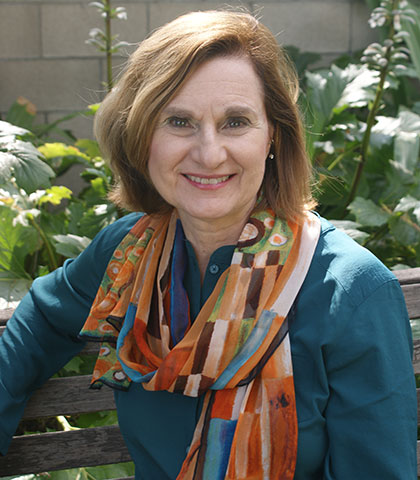 Sharon is a globally acclaimed expert on Stanislavsky, the Russian actor/director and the world's most famous acting teaching. Through her writings, master classes, and directing, she bring fresh and accurate perspectives to bear upon his life and practice.
Sharon is unique in her expertise because she combines acting with fluency in Russian language and culture. She began as an actor and dancer, falling in love with the classics as in intern at the American Shakespeare Festival Theatre in Stratford, Connecticut where she grew up. She added musicals to her repertoire, when she played a twelve year-old in Ralf Harmer's revival of The Music Man in New York City. She began directing, when she co-founded the Potato Players, a New York theatre ensemble dedicated to new plays. Her production of George Naylor's The Locked Room at the Lincoln Center New Play Festival won the Samuel French award.
Stanislavsky made his entrance in her life when she enrolled at Barnard College and decided to major in Russian. One day, when her acting teacher at HB Studios asked her to look up one of Stanislavsky's terms in Russian, she was amazed to find that the books he wrote in his native language were much richer and more interesting than the abridged English translations of him that actors generally knew. "I liked this Russian Stanislavsky much better—he was less dictatorial, more collaborative, more imaginative than he seemed in English. He even had a better sense of humor! From that moment, I wanted to introduce other actors to this Russian Stanislavsky!" She went on to earn a Ph.D. in Russian at Columbia University and traveled extensively in Russia where, over the years, she studied Stanislavsky via his former students and his unpublished writings in the Moscow Art Theatre archives.
As an author, she is best known for her book, Stanislavsky in Focus, that cuts through the persistent and inaccurate myths about the man and his System in order to set the record straight. Focus (now in an updated second edition) has become the indispensable source for actors and theatre scholars alike. Among her many other publications, readers will find ground-breaking studies on film acting, including the co-authored, Reframing Screen Performance. She has also published extensively on Anton Chekhov, with her award-winning translations of his plays in Four Plays and Three Jokes, being hailed as actor-friendly.
As an a master teacher and director, Sharon is a passionate advocate of Stanislavsky's late rehearsal technique, Active Analysis—a technique deeply rooted in Stanislavsky's life-long respect for actors as creative artists.  Sharon believes that Active Analysis fosters in actors the kind of flexibility that they need when they face today's challenges of working across venues (from stage and screen to new media) and with a variety of performance texts (from the classics to postdramatic plays and from sit-coms to the devising of new works). Sharon has taught Active Analysis in many corners of the world, including the United States and Puerto Rico, Norway, Australia, Finland, England, Italy and France. She was formerly at New York University and is currently a professor at the University of Southern California.
"With a Ph.D. in Russian, I take actors and readers directly to the words and worlds of Stanislavsky and Chekhov. As an actor and director, I know in my bones what it is to perform, and so I always write and teach from this perspective."